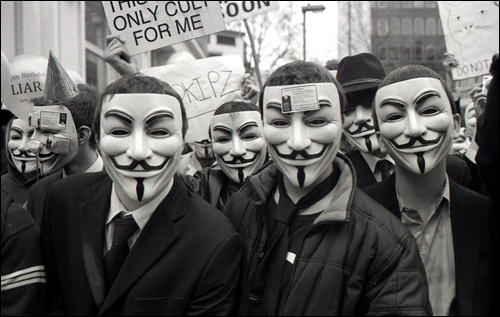 In the
first part
of this article, I began a discussion of how 4chan has begun to shape our political discourse. That post was very much about the mainstream--sorry, no Hipster Kitty joke--both in terms of American politics and in terms of internet culture. Yes, it was about dissent, but it was about protests and demonstrations, subversion and satire, all of which fall well within the commonly accepted range of American political behavior. The rights to free speech and assembly are constitutionally protected and largely unquestioned, whether your placards quote
Thomas Paine
or
Antoine Dodson
.
But there are less universally accepted (read: illegal) forms of dissent. American history has produced a number of these radical dissenters, and they are particularly likely to appear during a pivotal moment of political upheaval. The Abolitionism had John Brown. The early progressive period had militant anarchists. The Civil Rights Movement had the Black Panthers. And we have
Anonymous
.
It may seem a stretch to compare the actions of a group of hackers and internet pranksters to
the raid on Harper's Ferry
. of course, there are some significant differences between Anonymous and past political radicals, not the least of which is their medium. But there are also some significant similarities.
Anonymous didn't pioneer the prankster-radical persona. In 1968, Abbie Hoffman and his Yippie cohorts presented
a pig
as a presidential candidate during their protest of the Democratic National Convention in Chicago. This was only shortly before these same protests devolved into riots that lead to the arrest and trial of Abbie and seven others. Like Hoffman and Co., Anonymous occupies the space between lawful, comedic subversion and acts of sudden mass trespass. Compare the trial of the
Chicago Seven
to the recent raids on the homes of Anonymous members* believed to be involved in denial of service attacks as a protest in solidarity with Wikileaks.
An even tighter parallel to Anonymous can be found in
The Weather Underground
. The Weather Underground, which emerged from the Anti-Vietnam War Movement, was responsible for a series of bombings during the 70s. Like Anonymous, they were a group of mostly young adult dissenters who were loosely organized and protective of their identities. Also like Anonymous, they followed their attacks with group-authored manifestos, and often acted as a show of solidarity with other groups or as a response to current events. And, once again like Anonymous, they managed to simultaneously pursue publicity and cherish secrecy. Both organizations focus their attacks on the infrastructure of their enemies--buildings, websites--rather than on human lives. Really, there could be an entire article devoted just to expanding on these similarities.
What might be most interesting though is how Anonymous has managed to evolved answers to some of the most difficult challenges faced by the Weathermen (and other earlier groups of dissenters).
One huge problem for the Weatherman was the possibility for human casualties. Lost lives would have been a public relations disaster for an anti-war group that had already been labeled as a terrorist organization. The Weathermen countered this by phoning in warnings in advance of their bombings. But this, obviously, was not a perfect solution. A building might not be evacuated in time, or some other accident might lead to someone being killed or injured in the explosion. (As it turned out, the only casualty of a Weather Underground bomb was a member of the group who was killed when a device exploded prematurely.) There is also the violence inherent in the use of explosives, which in and of itself undermined their peaceful message.
Anonymous' tactics, meanwhile, present no threat of death or injury, and damage only the infrastructure of their targets. While illegal, denial of service attacks and other acts of internet disruption, are totally nonviolent.
Another, more obvious, problem that Anonymous avoids is that of their namesake: anonymity. The threat of infiltration was always very real for the Weathermen and other similar groups. There was only so much they could do to hide their identities, and, ultimately, the physical nature of their actions demanded face-to-face contact, both in organizing and execution. Meanwhile, Anonymous members still have to worry about being traced and discovered--as the raids mentioned above prove--but they can act with no physical contact with other members, no names exchanged, and no voices heard.
With all of this in mind, I think we can see Anonymous for what they are: An evolution of old forms of political dissent and rebellion, a modern reinvention of old school radicalism. And I think their existence--and their ideology, with its heavy emphasis on free information--gives us some indication of the conflicts that may define our politics in the (perhaps near) future.
*I use the term "members" loosely here, since Anonymous has no formal membership.